MEYN CD 6000
Specification
---
| | |
| --- | --- |
| Application | Gizzard harvester |
| Capacity | 6000 pcs/h |
| Technical order | Refurbished |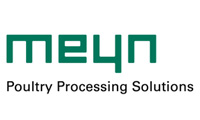 LUB
Product description
---
Specifications
| | |
| --- | --- |
| Manufacturer | MEYN |
| Model | CD 6000 |
| Gizzard Harvester type | CD-6000 |
| Machine length | 2300 m |
| Machine height | 850 - 1750 mm |
| Capacity | 6000 gizzards per hour |
| Mmachine width | 840 mm |
| Weight | +- 350 kg |
| Installed power per motor | 1.5 kW B5 |
Description
Giblet harvesting is an essential part of Meyn's evisceration program. A complete range of solutions is available, from manual to fully automatic, suiting different applications and every market requirement.
Used Meyn Gizzard Harvester CD-6000 to process up to 6000 gizzards per hour;
Separates the gizzard from the pre-stomach of a processed bird, cuts and cleans the gizzard and finally peels the inside of the gizzard to remove the inner skin;
If necessary the gizzards can be checked on a gizzard checking table and finish peeled by hand.
Meyn Gizzard Harvester type: CD-6000 capacity: 6000 gizzards per hour machine length: 2300 m mmachine width: 840 mm machine height: 850 - 1750 mm weight: +- 350 kg installed power per motor: 1.5 kW B5 Electrical Motor and 2.2 kW M1 Geared Motor